World Hearing Day-2022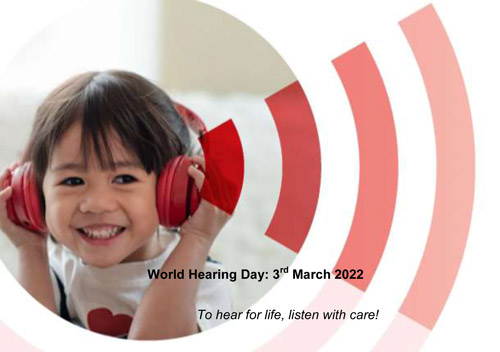 World Hearing Day is observed on 3 March each year to raise awareness on how to prevent deafness and hearing loss and promote ear and hearing care across the world. Projecting that 1 in 4 people around the world will suffer from hearing loss by 2050, the WHO has released the first ever World Report on Hearing,2021 to call attention to the need for action across nations. As per WHO's estimate, approximately 63 million people have significant hearing loss in India, i.e., 6.3% of the total population.
The theme for this year is "To hear for life, listen with care!" The focus will be on the importance and means of hearing loss prevention through safe listening, with the following key messages:
It is possible to have good hearing across the life course through ear and hearing care​
Many common causes of hearing loss can be prevented, including hearing loss caused by exposure to loud sounds​
'Safe listening' can mitigate the risk of hearing loss associated with recreational sound exposure​
WHO calls upon governments, industry partners and civil society to raise awareness for and implement evidence-based standards that promote safe listening.
Some of the recreational activities that are loud and continuous expose may cause permanent damage to the hearing.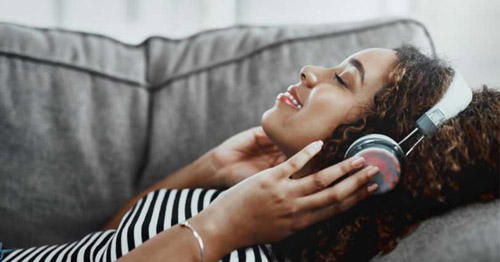 World Hearing Day 2022 will also mark the launch of the global standard for safe listening entertainment venues and events, SafeListening handbook, and a media toolkit by WHO.
Help promote World Hearing Day! Use hashtags on your social media accounts, including Facebook, Twitter, and LinkedIn.
#safelistening #worldhearingday #hearingcare
Keep visiting this space for promotional videos and event related information.
Activities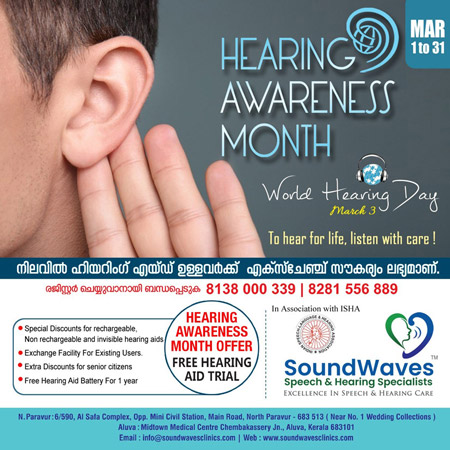 JSS Institute of Speech and Hearing, Dharwad
JSS Institute of Speech and Hearing, Dharwad celebrated world hearing day in association with Indian Speech and Hearing Association. More than 100 students and staff of the institution participated in occassion by performing street play to create awareness among public regarding importance Hearing, causes of hearing loss and facilities available for hearing loss at three crowding junctions of the city in Dharwad.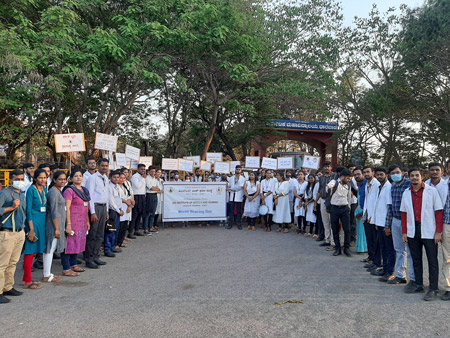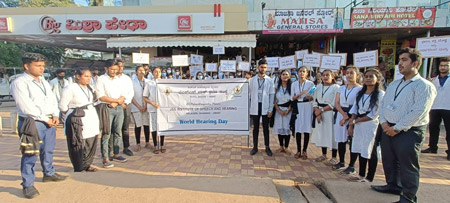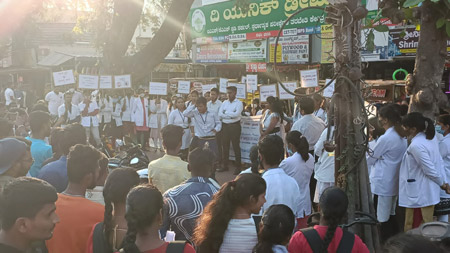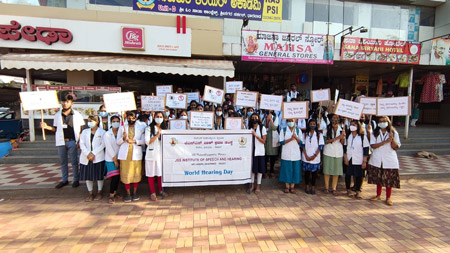 Shrawan Shakti trust and Kushwaha ENT and Diagnostic Centre
Haldwani,March 03, on the occasion of World Hearing day shrawan Shakti organised a one day workshop. Dr. Ravindra Singh of ICMR gave a detailed description of assistive technology and use of it Technology has given high hopes for humans. All such restrictions like cognition or sensory faculties and barriers can be removed or reduced with the assistive technology .
Many prominent doctors of the city were present in the workshop. Children with hearing disability also told their experience of hearing aids. Other than this patients who were not able to attend the workshop, attended virtually.
Amit Maurya gave a detailed description of Shrawan Shakti trust and its aim to work for the functional impairment patients in future.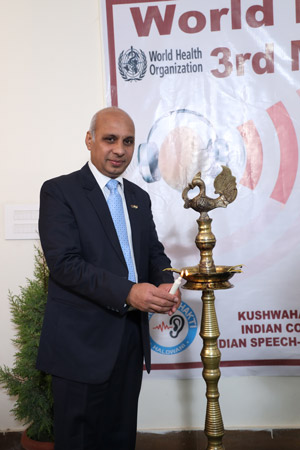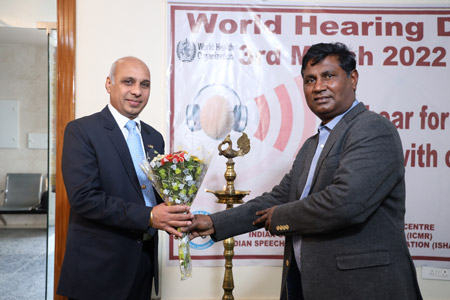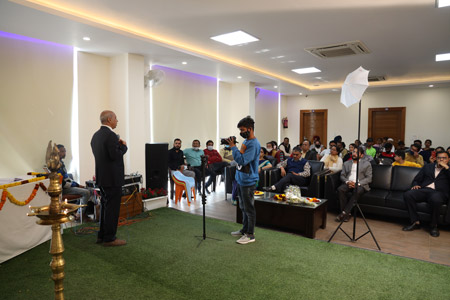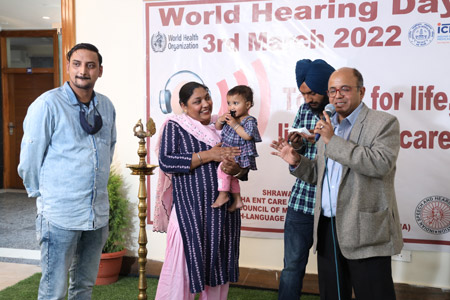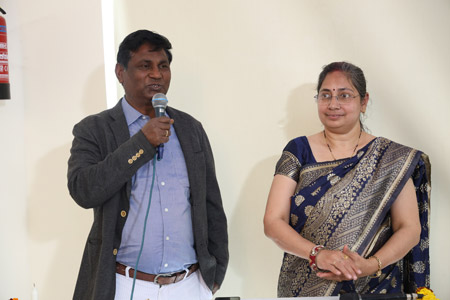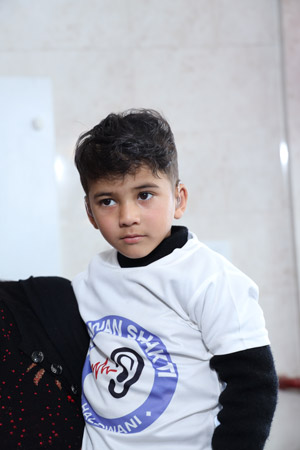 NGO - SGS Vagdevi Centre for the Rehabilitation of Communication Impaired, Girinagar, Bangalore, Karnataka, India
Scientific seminar on Importance of Neonatal Screening of Hearing and Its Impact on Speech-Language Development in India was conducted. 10 speakers from different professions like Audiologists, ENT Specialists, Neonatal Paediatricians presented their experience in conducting neonatal hearing screening challenges faced by them. 100 participants from medical professionals and representatives from Different governmental agencies participated in the seminar. Various issues such as establishing a uniform protocol for screening, screeners training, manpower involved, government legislation for making hearing screening mandatory in existing hospitals in India, creating a single window agency to gather data and to share this data with other NGOs involved in early rehabilitation.
At the end of the session a summary of recommendations was submitted to various governmental agencies involved in implementing this scheme in India. Summary given below :

Constitute a high level technical committee consisting of Audiologist, Government officials from allied departments such as Health and family welfare and Women and child welfare.
Hearing screening should be made mandatory in government hospitals and primary health care centres and testing facilities made available in private hospitals and nursing homes at a nominal rate fixed by the government.
Establish a central nodal agency to collect the data generated by various centres on a monthly basis.
The data should be made available to interested agencies involved in rehabilitation of hearing impaired.
Screening tool used should be standardized across all the centres.
Establish a consistent approach to screening (All the new-borns should be screened not just high risk babies).
Make use of existing man-power such as people involved in administering Polio and other vaccines, trained the same personnel to screen new-borns.
Create a quality control system to supervise the activity.
Clear cut follow-up measures to be established.
Assign the responsibility of rehabilitation to agencies involved in the early intervention activities such as training mothers to develop speech and language in their deaf children.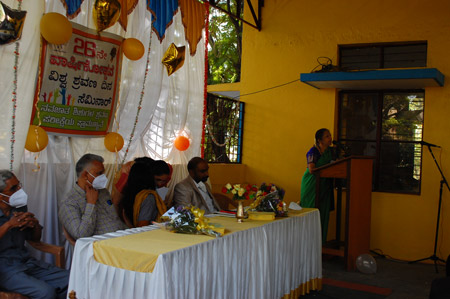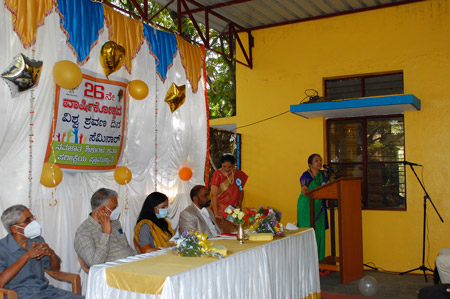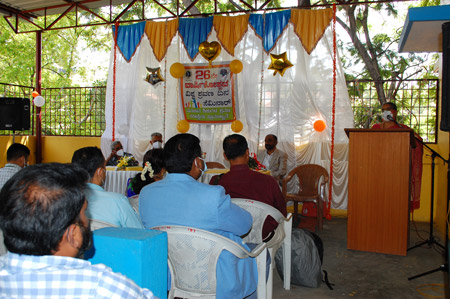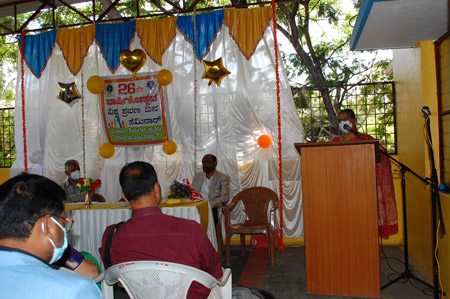 CRC Guwahati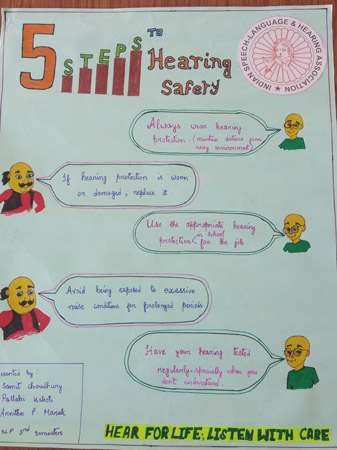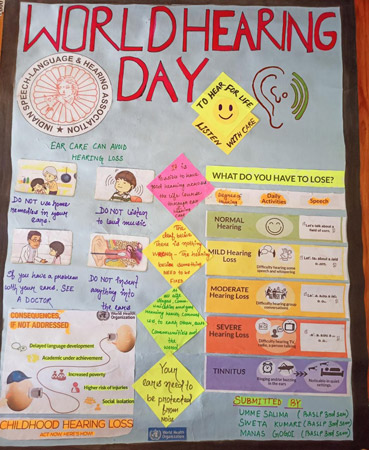 World Hearing Day 2022 – Awareness Videos by Famous Personalities
| | |
| --- | --- |
| Dr. Nitin Nagarkar, Director, AIIMS, Raipur | |
| Dr. Saurabh Varshney, Director, AIIMS, Deoghar | |
| Dr. S. P. Dubey, ENT Surgeon, Bhopal | |
| Mr. Ashok Kumar, Industrial Audiologist, SAIL, Bokaro | |
| Mr. Arun Bakshi, Indian Film and Television actor | |